Minneapolis Muay Thai – Thai Boxing Classes (Kickboxing)

Muay Thai – Thai Boxing is the National Sport of Thailand. Muay Thai fighters have been called "Kings of the Ring". They may strike any part of the body with kicks, knees, punches and elbows.


These classes can be easy for the beginning students, yet challenging enough for even the seasoned athlete. You may wear shorts or sweats and athletic shoes or the more traditional Thai Shorts and bare feet.  We have all the equipment you need to try out your first classes: gloves, thai pads and focus mitts.  If you wish to purchase your own equipment, it is available in our pro shop.
 Muay Thai classes at the Kali Group:

Monday and Wednesday Muay Thai technique, drills and conditioning.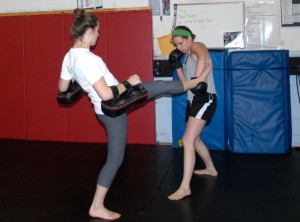 Friday night is "Rounds" training!
The Friday night kickboxing class is an hour and a half "rounds" training class geared to all levels.  This is our signature training format designed to be an excellent workout, and to let you push yourself as far as you want. Thai boxing drills are integrated into 5 three minuet rounds that provide both training and fitness.
Equipment training available to help you develop to the next level. Heavy bags, Speed bags & more!
Come in for a free week trial!