Welcome to the Minnesota Kali Group!
Welcome New Students!
Try out any of our fantastic programs in our relaxed and welcoming facility.  You will find the Mixed Martial Arts you are looking for here (the Mix of Martial Arts that fits you).  Since our opening in 1982, we have been a "Mixed Martial Art" school. Our legacy goes back the the late Bruce Lee and Dan Inosanto as they mixed arts from many cultures to form what Bruce called " Jeet Kune Do ".  Since then our training methods and philosophies have been guided forward by their ground breaking work.  You will enjoy the training as you meet your personal goals.
You have just found the best martial arts experience anywhere!
Highlighted classes this month:
FILIPINO BOXING  (Tuesday, Thursday at 5:00)  This art is called PANANTUKAN and is a true self defense art as well as a great workout.  You will learn skills and then hit pads.  It is primarily a boxing art so punching skills and movements are emphasized.  You will also learn takedowns, locks and breaks.  It is one of our most fun class formats.
SUBMISSION COMBINATIONS   (Wednesday 7:00)   In this class we cover the CSW curriculum in the form of combination moves for submission on the ground.  This is a great way for those new to ground work to get a feel for the art and for the advanced grapplers to add to their arsenal.  There is no live wrestling but you will get a great workout.
TRAPPING CLASS – 7:30 Thursdays
Thursday 7:30 is the new Trapping class.
This class features choice close range empty hand drills from JKD, KALI, MUAY THAI, BOXING and our own innovative MIXED MARTIAL ARTS curriculum.
What a great way to end the training day!!
Let's hit something!!
See you here,
Rick Faye
MINNESOTA KALI GROUP:
We are here to change your life for the better.  We will change your body, your mind and your life through the best training in martial arts by the very best instructors.

Whether you are looking for a great way to get in shape, to relieve stress or to learn from the best, the Minnesota Kali Group is the place for you! Our fun, relaxed, atmosphere is welcoming to all levels of martial arts interest. The MKG training methods, class structure and training equipment are all designed to create a martial arts experience that is safe yet effective. This could be the most fun you will have learning a serious martial art. From day one you will be hitting pads and learning to react to attacks in effective ways. Confidence, health and sense of well being.   This is the true anti-aging formula!

In Minneapolis, we offer Martial Arts and Self Defense for students at all levels. Learn from a variety of disciplines: Kickboxing, Muay Thai, Jeet Kune Do, Silat, Jun Fan, Jiu Jitsu, Grappling, and more.

The martial artist, the competitive athlete, the workout enthusiast, and the simply curious can all find their places in our classes and programs.
You don't have to be in shape – let us do that for you!
The MKG training methods, class structure and training equipment are all designed to create a martial arts experience that is safe, enjoyable and yet contains the best and most practical methods in martial art.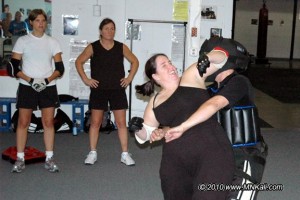 The MKG environment is uniquely conducive to the martial artist's development. Challenge your intellect, relieve your stress, discover a new art form and learn self defense. Come in today for a free trial week!
Interested in trying us out? Stop In Today For A Free Week!
One Week Pass: (for new students only)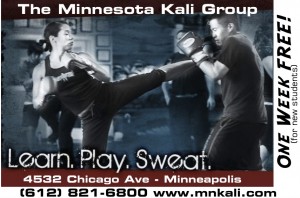 Our fun and engaging atmosphere is open to people of all ages, fitness and skill levels. Hours of operation vary day to day, so check out our Contact Us page for schedule and location information. Stop in to experience a fun and challenging workout that will teach you valuable self defense skills and martial arts forms.
Questions about classes or the MKG experience? Email us at [email protected]!