Stop in any time to start your free week!
Stop by any time to start your free week!
No appointment necessary!
We are here to change your life for the better.  We will change your body, your mind and your life through the best training in martial arts by the very best instructors.

Whether you are looking for a great way to get in shape, to relieve stress or to learn from the best, the Minnesota Kali Group is the place for you! Our fun, relaxed, atmosphere is welcoming to all levels of martial arts interest. The MKG training methods, class structure and training equipment are all designed to create a martial arts experience that is safe yet effective. This could be the most fun you will have learning a serious martial art. From day one you will be hitting pads and learning to react to attacks in effective ways. Confidence, health and sense of well being.   This is the true anti-aging formula!

In Minneapolis, we offer Martial Arts and Self Defense for students at all levels. Learn from a variety of disciplines: Kickboxing, Muay Thai, Jeet Kune Do, Silat, Jun Fan, Brazilian Jiu Jitsu, Grappling, Kali, Filipino Boxing, and more.

The martial artist, the competitive athlete, the workout enthusiast, and the simply curious can all find their places in our classes and programs.
You don't have to be in shape – let us do that for you!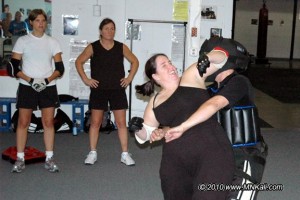 The MKG environment is uniquely conducive to the martial artist's development. Challenge your intellect, relieve your stress, discover a new art form and learn self defense. Come in today for a free trial week!
Interested in trying us out? Stop In Today For A Free Week!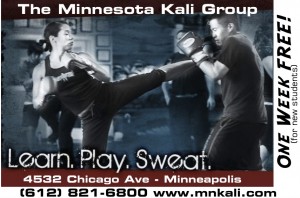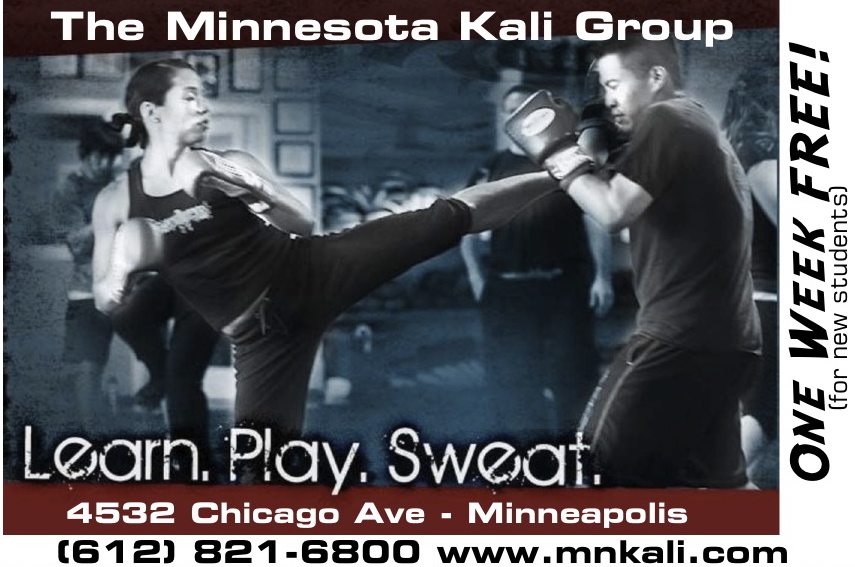 Hours of operation vary day to day, so check out our Contact Us page for schedule and location information. Stop in to experience a fun and challenging workout that will teach you valuable self defense skills and martial arts forms.
Questions about classes or the MKG experience? Email us at minnesotakaligroup@gmail.com!